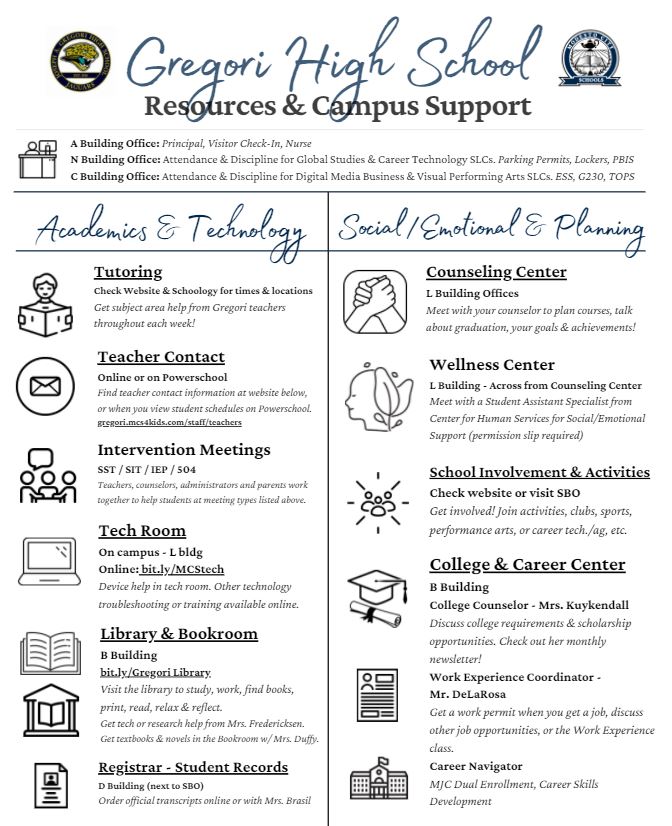 Joseph A. Gregori High school opened on August 11, 2010 as the seventh high school in Modesto City Schools. The school's attendance boundaries encompass the northwest part of the school district. Gregori High School's primary feeder schools are Salida Middle School and Prescott Senior Elementary. Both of these junior highs are in different school districts. Gregori High School reflects the socioeconomic and ethnic diversity of the city of Modesto and the town of Salida. Our school is unique for several reasons. All students and staff are divided into Small Learning Communities (SLC), students attend classes in a modified block schedule. We have a full complement of boys and girls athletic teams, which are consistently competitive in the strong CCAL; our athletic programs have earned multiple awards for excellence. Gregori High School is a great place for students to pursue their high school education. In 2015, Gregori High was recognized as a Gold Ribbon School by the California Department of Education. For the last two years Gregori earned the Silver School Award from in the US News World Report ranking. Students have a wide variety of options, along with a caring and committed staff to support them in their ongoing pursuit of Achievement, Loyalty and Integrity. Our Mission statement is as follows: Joseph A. Gregori High School provides a safe, collaborative learning community that engages and supports all students to succeed as lifelong learners.
Modesto's population is approximately 212,000 residents; the town of Salida, which comprises JGHS's primary attendance area, has approximately 14,000 residents. Modesto and Salida are located within a short driving distance of the ocean, mountains, and one of the nation's most renowned national park. Many short-day trip options are available to residents of this area including San Francisco, Sacramento, Yosemite National Park, Monterey Bay National Marine Sanctuary, and the Giant Redwoods, Sequoia and Kings Canyon National Parks of northern California. Modesto is in the heart of one of the most prolific agricultural areas in the nation, the fertile San Joaquin Valley. Dairy products, nuts, fruits, wine grapes, and poultry are some of the top commodities.
Located at the northern edge of Stanislaus County, the campus is surrounded by farms, agricultural fields of corn, other crops, and almond orchards. Light industry, farms, businesses, one of Kaiser's newest hospitals, and professional offices comprise the area surrounding the campus. A number of students have parents who commute to the Bay Area for work while appreciating the quality of life in Modesto. The school has a heterogeneous school population similar to the ethnic make-up of Modesto.
Directions to Gregori High School